Dear reader,
Meath Partnership and Future in Perspective are delighted to announce that it is a partner in a new Erasmus+ project focusing on the theme of Green Entrepreneurship, GET-UP: Green Entrepreneurship Training - Underpinning Prosperity. The project commenced in September last and with eight partners from across seven European countries; and we plan to work together on the project to develop a series of outputs until August 2018.
The GET-UP project focuses on supporting individuals and entrepreneurs in the field of green entrepreneurship or the green economy. Within the scope of GET-UP we are endeavouring to develop a new tailored training curriculum promoting green entrepreneurship based on the needs and requirements of entrepreneurs and nascent enterpreneurs entering the green sector.
Furthermore, we aim to design a bespoke train-the-trainer course that will support the continous professional development of trainers and tutors wishing to deliver this sector-specific training to support new business entrants. To address the time-bound restrictions faced by many enterpreneurs and start-ups, the GET-UP training will be delivered through a blending learning format, in that the majority of the courseware will be available online, 24/7 and free to use and will be supported locally by a series of face-to-face workshops.
In the first phase of the project and up until now, we have been busy researching the needs of nascent enterpreneurs in terms of the green sector in order to shape the structure and content of the training programme we are proposing to develop. In addition to the research and consultation process, we also reviewed existing models and best practices in order to find out how different countries deal with and support entrepreneurship and indeed green enterpreneurship, where it existed.
---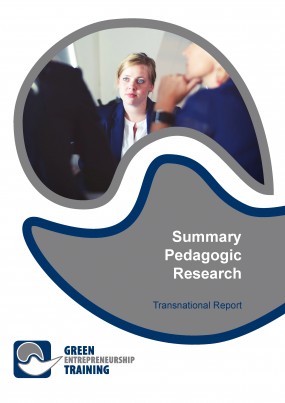 The results of our research activities are available for you to review and consider on our project website http://www.green-entrepreneurship.online/ and we hope that you will follow the progress of our project over the coming months. If you could like further information on the project or contribute to the development of the training programme, please like our Facebook page https://www.facebook.com/Green-Entrepreneurship-Training-1648395042129201/or contact Sarah at Meath Partnership at info@meathpartnership.ie
---