Observatory
Observatory of Green Businesses

To immerse into a world where discounter
do not exist any longer. A world reminiscent of ancient times, where the small personal trader passed the fresh organic milk and eggs to you. A world that gives us true quality of life: healthy, regional, fresh and delicious food, from the trader next door. Apriku is a platform for the local food trade and informs you about your local traders, their products, special features and much more!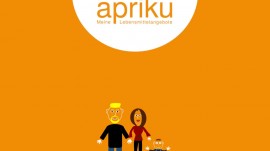 Size of business
1 employee (founder)
Lots of cooperations and partners
Opportunities and plans for the future
I see Apriku as a platform for the small local stores to be armed against discounter.
In 10 years, Apriku is a symbol of quality of the own region.
Pitfalls and challenges
1. How did the project come to life?
We noticed that the generation today does not know the small precious shops in the surroundings and we want to change that.
2. If you found the company again, what would you do exactly in the same way and what would you do differently?
I would invest less time in formal tasks and try to enter the market faster.
3. Are there any difficulties regarding the foundation?
With "green" ideas, you can quickly stir up an interest dust cloud. It is important to stay on the ground and to concentrate on convertible concepts.
4. What are the biggest challenges in regard of the foundation?
Especially the know-how in regard of sales is missing.
5. Did you have positive or negative incidences which motivated you?
The open-mindedness of the customers and the great public interest for "green" ideas.