Observatory
Observatory of Green Businesses
Nuuksion Taika - Magic of Nuuksio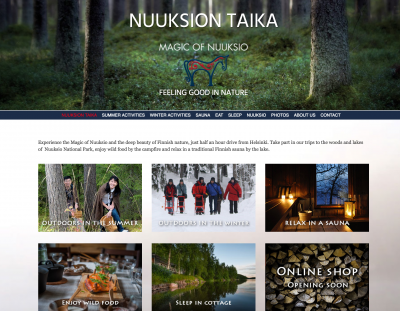 We are a private Finnish company, who provides distinctive and memorable experiences, and share information about Finnish culture and traditions.
Our working and activities policy is eco friendly and we follow the guide-lines of green tourism by minimizing the environmental impact of our activities and doing our part to conserve natural resources. Green tourism is environmentally-friendly tourism that cherishes, and works to maintain the balance with nature and the natural flora and fauna of the forest and lakes. We work hard to provide quality in all our services.
The Story of Juniper Spirit is the core story of the company. On our video you will experience the Magic of Nuuksio nature and the elements which are important for us.
CEO and owner of the company is Satu Selvinen. She is physio- and riding therapist, with a strong knowledge of welfare of human being and the healing powers of the nature and animals. She is also wilderness guide, who can bring you safely into the woods and to the lake.
Size of business
Supports
Opportunities and plans for the future
Pitfalls and challenges