Observatory
Observatory of Green Businesses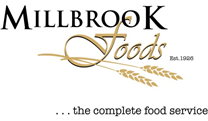 In 2012, Millbrook Foods and Millbrook Edible Oils began to adopt green practices in their business. It expanded its business to reduce waste plastic for its customers. With the new innovations adapted by Millbrook Edible Oils, this business activity can be categorised as 'clean technologies', 'food processing' and 'waste management'.
Millbrook Foods has been providing quality food to Irish consumers for more than 85 years. Products include seafood, bread, meat, sauces, cakes, pastries and 'Millbrook Food To Go'. More recently, the company established Millbrook Edible Oils, which supplies cooking oils to the catering industry and food manufacturers throughout Ireland. Reducing plastic waste for customers is completely in line with the company's ethos and customer focus. These innovations have allowed Millbrook to reduce the waste plastic in their company by up to 85%!
Size of business
Supports
LEADER provided a grant of 75% towards the costs of machinery to assemble boxes and liners suitable for waste plastic reduction.
Opportunities and plans for the future
Michael is focused on elevating the company's profile in the market with this new eco-friendly concept and to secure national coverage with it.
Pitfalls and challenges
Operations Director, Michael Geraghty, advises anyone starting an eco-business to believe in their business concept and do plenty of detailed research. Additinally, he stresses that the company is very community-oriented and intends to continue its commitment to employing local people.