Observatory
Observatory of Green Businesses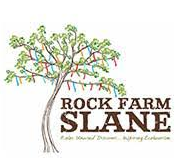 Rock Farm Slane is an eco-tourism business, which offers glamping facilities, electric bikes and other sustainable tourism activities to customers.
Rock Farm Slane is a glamping, ecotourism and activity centre and organic farm on the Slane Castle estate, which stretches for 1.5km along the banks of the River Boyne. It provides guests with a boutique eco-camp venue on the grounds of the historic Slane Castle in Co. Meath. Campers can rent luxurious yurts or inviting shepherd's huts and enjoy activities on the farm and throughout the Boyne Valley. Slane Rock Farm also provides Strawbale courses which offer self-builders access to expert tutors and case study examples as well as the opportunity to learn skills and techniques required to get their project off the ground.
Size of business
Supports
A former environmental consultant with a strong track record - Carina was always passionate about nature and organic farming so was willing to commit some personal finances to starting the business. During the business planning phase, she also approached Meath Partnership for funding support. Meath Partnership recognised the potential in this initiative and funded Carina through the Irish Rural Development Programme to do a business planning course. Through Meath Partnership, Carina also recieved financial support for marketing, social media and website design, all of which are crucial to the success of Rock Farm Slane. Carina secured further support from the Meath County Enterprise Board.
Opportunities and plans for the future
Pitfalls and challenges