Observatory
Observatory of Green Businesses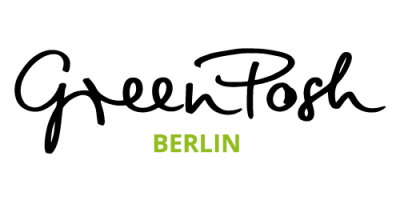 Shop for sustainable bags, shoes and accessories Quality, competence, exclusivity - these is the concept of GreenPosh. In Berlin's online and offline fashion store, GreenPosh convinces with its expertise, trend-setting skills and know-how. Founder Sabine Rode thought a long time about obtaining sustainable bags, which are produced under fair conditions.
Founder: Sabine Rode
After a long research, she made a decision: it has to create a place where trends and sustainability come together. GreenPosh was born in 2015. Firstly she opened a online store, followed by a store in Berlin (Senefelderstraße). Here you can buy with a clear conscience, without renunciation of the fashion factor. At GreenPosh sustainability is the main aim. That means that only brands which achieve at least one of the following values ​​are offered:
• Social aspects
• Fairtrade
• Recycling
• Eco leather
• Vegan
• Made in Germany
• Certificates for compliance with certain standards
Size of business
4 employees, automation of many tasks / processes, but in some areas external service providers
Supports
Bank consultants
Consultants for promotion in entrepreneurship
Opportunities and plans for the future
GreenPosh should become Europe's largest online platform for sustainable products.
Pitfalls and challenges
1. How did the project come to life?
My name is Sabine Rode. In 2015 I have founded GreenPosh. Firstly I have opened an online shop, followed by a store in Berlin. Few years ago I have moved to Berlin. Inspired by Berlin, my life and my environment, I have decided for a sustainable way of life. In this process, I realized that it was difficult to find sustainable accessories and fashion. So the idea was born to create a place where sustainability and fashion are combined.
2. If you found the company again, what would you do exactly and what would you do differently?
At the beginning of my business I concentrated on building the appropriate product range and finding suitable manufacturers. However, frame conditions like the corporate structure or the registration for my brand are also important aspects. If I would found my business again, I would focus more on these aspects. Before founding GreenPosh, during construction, and even today, there are doubters. They do not believe in my vision. I remember my bank adviser. His resume was: "Nobody needs another online-shop. Better to leave it". In spite of all the doubters, I have consistently worked on my plan and pushed my aims forward. For every founder it is very important to accept criticism but you should avoid negative doubters.
3. Are there any difficulties regarding the foundation?
For everyone who wants to found a business in the "green sector" it is very important to understand that the acceptance of such business models among consumers has grown strongly. However, there is still a lot of clarification work. Everyone who wants to found a business should consider following aspect: The offer or the service has to be "convenient" for consumers and should not involve additional costs.
4. What are the biggest challenges in regard of the foundation?
In the two and a half years of constructing GreenPosh there were a lot of ups and downs. But with a successful proof of concept during this time. Now I am facing the challenge of establishing GreenPosh as Europe's largest online platform for sustainable products. I'm really looking forward to this challenge.
5. Did you have positive or negative incidences which motivated you?
I am still motivated to show people that a sustainable lifestyle is not very difficult and you won't miss anything.
Contact information
GreenPosh
Alte Schönhauser Straße 23
10119 Berlin, Germany